A conceptual noise...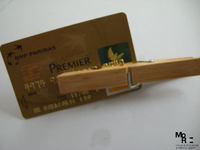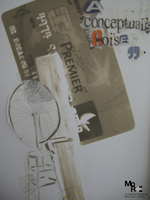 Title
A conceptual noise...
Description
The idea is to put a small gadget on a very famous Duchamp's work,
Roue de bicyclette
, a ready-made exhibited in several museums all around the world (Centre Pompidou in Paris, Tate Gallery in London, Moma in NY...). Considering that his work is a reproduction itself, a copy of the lost original, the idea of a "posthumous homage-enrichment" is really close to Duchamp spirit. The introduction of a credit card establishes a link with other artist who changed the art world, investigating the role of money and material goods, such as Dali (Avida Dollars) but above all Wharol. There is a recreational element in this gadget: the artist took inspiration from the playing cards that children put on their bikes to simulate the sound of an engine. The kit, made of a copy of the artist's credit card and a clothes peg to decorate Duchamp's work according to Bonacorsi's instructions, is sold apart in the museum shop.
This work was planned by the artist on the occasion of the re-opening of Centre Pompidou collections in 2000, but he never proposed it to the museum: a typical development of Bonacorsi's work, really influenced by the concept of dépense.
Read more.
Contributor
Longari, Elisabetta
Identifier
Rights Holder
Ivo Bonacorsi
MoRE Museum
Collection
Citation
Bonacorsi, Ivo, "A conceptual noise...,"
MoRE
, accessed April 22, 2021,
http://moremuseum.org/omeka/items/show/36
.
Social Bookmarking
Item Relations
This item has no relations.