Mission Accomplished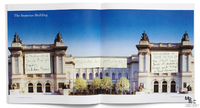 Title
Mission Accomplished
Description
Jeremy Deller was invited for the Carnegie International in 2004, and this one was the first idea he presented – which could be referred to a more complex series of research and reflections about the contemporary war in Iraq – with the intention to present one of his large banners on the facade of the museum, that recalled the one used as a background by President George Bush during a speech, which presented the words 'Mission Accomplished'. In the picture, on the side of the banner, there are two post-it notes that refer respectively to the exposure, always on the facade, of a photograph – taken from existing documentation – of Donald Rumsfeld, then special envoy of President Reagan in the Middle East, meeting Saddam Hussein in 1983, and the ambiguous flyer posted on the doors of some houses in Florida during the 2000 presidential election, which recalls what the artist considers a strategy of the Republican Party to discourage voters opponents. This stated, falsely, that to vote it was required to have paid all the fines, while also recalling a wrong date for the elections.
As reported by the artist himself, the theme of the work was "just too raw at the time", so instead he realized for the exhibition
Breaking News (Dedicated to Peter Watkins),
a site-specific work for the miniature rooms at the Carnegie Museum of Art, where he overlapped the rooms and reconstructions of ancient battles with architectural elements, coeval furnishing and a television for the transmission of images.
Read more
.
Contributor
Scotti, Marco
Identifier
Rights Holder
Jeremy Deller
MoRE Museum
Collection
Citation
Deller, Jeremy, "Mission Accomplished,"
MoRE
, accessed April 22, 2021,
http://moremuseum.org/omeka/items/show/11
.
Social Bookmarking
Item Relations
This item has no relations.
Geolocation