Proposal for the Olympic Park Gateways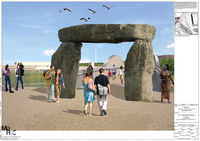 Title
Proposal for the Olympic Park Gateways
Description
Deller proposed here a structure similar to Stonehenge, or simply menhir-like, to highlight the entrances and exits of the Olympic Park that would have hosted stadiums and structures in London, 2012. The deliberate ambiguity consisted in building a structure – altough contemporary – that appears to be preexisting the context and foreshadows a possible fate of ruins for all the structures inside this high-tech area; but also revolves around the values associated with Stonehenge, an icon of the British identity, whose meaning remains basically unknown.
Read more
.
Contributor
Scotti, Marco
Identifier
Rights Holder
Jeremy Deller
MoRE Museum
Collection
Citation
Deller, Jeremy, "Proposal for the Olympic Park Gateways,"
MoRE
, accessed April 22, 2021,
http://moremuseum.org/omeka/items/show/12
.
Social Bookmarking
Item Relations
This item has no relations.
Geolocation