Tappeti volanti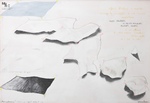 Description
In this drawing Franco Guerzoni speculates - with a theoretical exercise nearer to utopia than to a real project - about the possibility of realising flying carpets. On this drawing we can find, together with shapes and images by Guerzoni himself, a poetry written by his friend Adriano Malavasi.
Read more.
Contributor
Casero, Cristina
Identifier
Rights Holder
Franco Guerzoni
MoRE Museum
Physical Dimensions
jpeg file , 41,204 x 28,54 cm, 72 dpi
Collection
Citation
Guerzoni, Franco, "Tappeti volanti,"
MoRE
, accessed April 22, 2021,
http://moremuseum.org/omeka/items/show/78
.
Social Bookmarking
Item Relations
This item has no relations.