Iggy Pop Life Drawing Class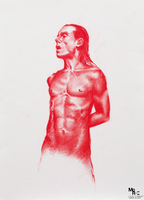 Title
Iggy Pop Life Drawing Class
Description
The project consisted in inviting an icon of popular culture – such as Iggy Pop – to pose, without revealing his identity to the students, as a model for a drawing class: the results of these sessions would then have been donated and preserved at the Smithsonian Institution. The artist's research focuses here on the importance of preserving social content and values related to pop music and to its fruition, placing them in a broader cultural context, and in particular on the role which certain bands and musicians assume for specific communities of fans or, as in this case, for an heterogeneous and often unconscious public.
The document is a drawing by Sarah Tynan, and serves as an example of what could have been the result of the work of the class.
Read more
.
Contributor
Scotti, Marco
Identifier
Rights Holder
Jeremy Deller
MoRE Museum
Collection
Citation
Deller, Jeremy, "Iggy Pop Life Drawing Class,"
MoRE
, accessed April 22, 2021,
http://moremuseum.org/omeka/items/show/7
.
Social Bookmarking
Item Relations
This item has no relations.
Geolocation