Karlsruhe Boat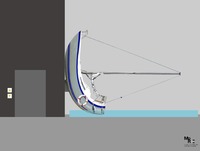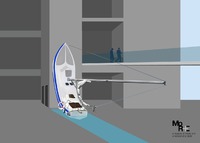 Description
Karlsruhe Boat is a project for the main venue in the German city of EnBW, a society dealing with and trading energy, and consists of a real size boat – situated in a small fountain-like pool of water indoor – that paradoxically deforms itself climbing up on the wall of the building. Even this sculpture creates a decompensation of perception, which is typical of the Austrian artist, where an object totally defunctionalized subverts its normal role and does something ironic and totally out of the ordinary logic. In this case the boat stands on a small and thin layer of water, placed almost vertically to the floor itself, and magically folds, almost crashing against the wall, in a process of deformation that we can find in some important series of the artist's work. This "absurd" situation reflects a kind of broken up narrative that is typical of the way the artist operates; his works seem to tell a story that suddenly stops and whose ending is left to the interpretation of the viewer. Instead of the classic final apotheosis of the happy ending, for Wurm's project we could talk about the apotheosis of paradox; the end is certainly not dictated by the victory of good over evil but rather an event that subverts the rules of the classic interpretation of the user. The artist is giving us a different interpretation of reality, that subverts the traditional forms of sculpture and perception. The reasons why the project remained unrealized aren't specified.
Read more.
Contributor
Rossi, Valentina
Identifier
Rights Holder
Erwin Wurm
MoRE Museum
Collection
Citation
Wurm, Erwin, "Karlsruhe Boat,"
MoRE
, accessed September 28, 2020,
http://moremuseum.org/omeka/items/show/6
.
Social Bookmarking
Item Relations
This item has no relations.
Geolocation