A Better Britain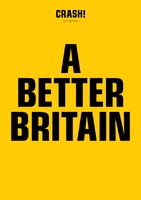 Description
Scott King developed this project as CRASH!, with historian and writer Matthew Worley, for the the
Serpentine Map Marathon
event.
A Better Britain
is a series of 12 projects, published inside what appeared to be the programme for the Map Marathon and along with the informations about the event. Each project featured an image, designed by Scott King with a xerox, collage aesthetic, and a text written by Matthew Worley to present the idea, which always addressed with a utopian/dystopian and often satirical proposal a specific theme regarding contemporary Britain.
MoRE has also realized
an interview with the authors
to talk about the projects, published on the museum website.
Read more
.
Creator
King, Scott
Worley, Matthew
CRASH!
Contributor
Scotti, Marco
Identifier
Rights Holder
CRASH! (Scott King & Matthew Worley)
MoRE Museum
Text
Magazine, program for the 2010 Serpentine Gallery Map Marathon
Collection
Citation
King, Scott, Worley, Matthew, and CRASH!, "A Better Britain,"
MoRE
, accessed January 21, 2021,
http://moremuseum.org/omeka/items/show/5
.
Social Bookmarking
Item Relations
This item has no relations.
Geolocation