Mojo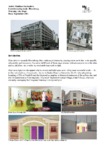 Description
Mojo is a project for the Fosters & Partners designed Bloomberg headquarters at 50 Finsbury Square, London, and consists of banners and an interactive space.
A first intervention would "reproduce" inside the atrium of the commissioner's London headquarters the central courtyard of one of the most famous and poor social housing estate in London, Pembury Estate, which is located in Hackney and results very similar in its size and plans to the City of London building.
From the technical point of view, the three sides of the "new and improved" Pembury Estate would be printed on three large "building wraps", similar to those perforated banners used for covering the scaffolding inside construction sites, linstalled on the north, south and west side of the great inner atrium of Bloomsberg HQ. The fourth side, made of curved glass, would be covered by several smaller banners corresponding to the different walkways, to create the image of a new luxury residential building to confront the facades of Pembury Estate.
The "reconstruction" of the social housing estate would thus be realized by adding some details - new balconies, wood paneling, glass coloured surfaces - to renew its image. This aspect is a reference to several projects which in recent years "renewed" this typology of buildings all over England, through architectonical interventions and real estate operations, making them "funky and affordable" but at the same time causing the more or less forced departure of the majority of its original inhabitants.
Similarly the east side of the atrium itself would represent a new batch of luxury apartments.
Darbyshire also designed a 3D interactive "show home" environment: this installation would occupy the mezzanine of the north side of the Bloomberg HQ and would reproduce an apartment of this new, renewed, social housing estate, ready to be shown to the - imaginary - potential customers. It would reproduce exactly the volumes and plans of a typical Pembury Estate 50 square meters apartment, which will be furnished with contemporary objects, images and design pieces that would, through their non-specificity, manage "to epitomize and critique the aspirations and taste preferences of our time", as we can see in other works of the artist such as Blades House (2008) or Oak Effect (2012).
Read more.
Creator
Darbyshire, Matthew
Contributor
Scotti, Marco
Identifier
Rights Holder
Matthew Darbyshire
MoRE Museum
Collection
Citation
Darbyshire, Matthew, "Mojo,"
MoRE
, accessed April 22, 2021,
http://moremuseum.org/omeka/items/show/68
.
Social Bookmarking
Item Relations
This item has no relations.
Geolocation