Drawings for a soft play commission for Barking Leisure Centre, London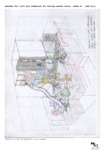 Title
Drawings for a soft play commission for Barking Leisure Centre, London
Description
This project was submitted as a proposal for the soft play commission at the Abbey Leisure Centre in Barking, London. The elements present in the area, dedicated to the children, are a series of games and spaces reinterpreted following the forms of objects, furniture and particular details of urban furniture. The space is divided into three floors: the ground floor is characterized as a urban public space with a trompe l'oeil painting of a Woolworths shop, a vinyl flooring that reproduces a grey stone paving, a neon sign and a coffee area, while the first and the second recall domestic spaces. Inside the drawings for the project we can find the model of a Volkswagen New Beetle car which works as a children picnic table, a climbing tree, a "store" where children can throw down huge objects made of a soft material and an area where rubber balls come out of bathtubs and sanitary fittings, a rotating wheel that looks like a sofa with a coffee table, a double bed you can jump on avoiding huge swinging lamps and the passages between different levels, made of firefighters poles, ramps and shelves to climb.
The Committee discarded the proposal, in favour of one by Marvin Gaye Chetwynd.
Read more.
Creator
Darbyshire, Matthew
Contributor
Scotti, Marco
Identifier
Rights Holder
Matthew Darbyshire
MoRE Museum
Collection
Citation
Darbyshire, Matthew, "Drawings for a soft play commission for Barking Leisure Centre, London,"
MoRE
, accessed April 22, 2021,
http://moremuseum.org/omeka/items/show/67
.
Social Bookmarking
Item Relations
This item has no relations.
Geolocation