CAPTCHA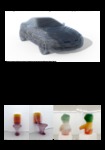 Description
CAPTCHA is the project for a sculpture that reproduces a sports car - a Mercedes SL600 - through layers of transparent polycarbonate, and should have been installed inside the Jardin des Plantes in Paris. The project, which focuses on the "striking formal aspects" of such a sculpture in a specific historical context, can be considered alongside Matthew Darbyshire works and researches on the optical potential of different materials and manufacturing processes, many of which looks at the printing technologies and the three-dimensional modeling of the prototypes used in the automotive industry. The polycarbonate in particular has different reactions to the light, and would allow the sculpture to "oscillate between the transparent and the opaque, or the solid and the empty". Even the choice of the subject can be included in the poetic and the iconography of Darbyshire, as it remains suspended between an intrinsic and ironic social commentary and a formal reflection on the object, the luxury, and its symbolic and subjective values.
The FIAC Committee rejected the project, which should have been also supported by the Swarovski company, within the off program of the fair. However the artist was asked if he would make and install it anyway with his commercial galleries resources.
Read more.
Creator
Darbyshire, Matthew
Contributor
Scotti, Marco
Identifier
Rights Holder
Matthew Darbyshire
MoRE Museum
Collection
Citation
Darbyshire, Matthew, "CAPTCHA,"
MoRE
, accessed April 22, 2021,
http://moremuseum.org/omeka/items/show/66
.
Social Bookmarking
Item Relations
This item has no relations.