Proposed plan for Hepworth Gallery entrance, Wakefield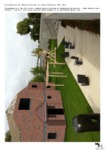 Title
Proposed plan for Hepworth Gallery entrance, Wakefield
Description
This project proposes an intervention in the area in front of the entrance of the Hepworth Gallery in Wakefield. Darbyshire here articulates the space through three elements: an unfinished Arts and Crafts half-hipped gable structure in developers vernacular, a B&Q pergola - B&Q is the well-known UK chain dedicated to DIY and gardening - and a medieval trebuchet orientated towards the new David Chipperfield designed gallery.
The three signs arranged in the area recall frequent themes in the artist's research, such as a critic to the homogenisation of contemporary design, to the standardization of the spaces, and the questioning of the regeneration processes carried out by government agencies and/or private developers, and stand opposite to the minimalist, award-winning and iconic museum building designed by an archistar.
Officially, the work has not been realised for a planning issue.
Read more.
Creator
Darbyshire, Matthew
Contributor
Scotti, Marco
Identifier
Rights Holder
Matthew Darbyshire
MoRE Museum
Collection
Citation
Darbyshire, Matthew, "Proposed plan for Hepworth Gallery entrance, Wakefield,"
MoRE
, accessed April 22, 2021,
http://moremuseum.org/omeka/items/show/69
.
Social Bookmarking
Item Relations
This item has no relations.
Geolocation