18.20 (Progetto per il Piazzale Caio Mario)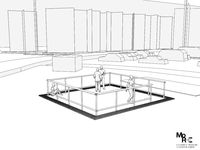 Title
18.20 (Progetto per il Piazzale Caio Mario)
Description
The project, originally conceived for the public contest «Premio Artegiovane/Torino Incontra. Una porta per Torino», proposed to realize a kind of silent room in the middle of the traffic congestion, with walls made of streams of air that rise toward the high and create a total sound proofing. To delimit the area Marisaldi plans to position a balaustre that works as a boundary. The idea, as the artists explains, is to create a kind of shelter in the middle of the traffic that can become a place for a date or be reached by tram.
Read more
.
Contributor
Modena, Elisabetta
Identifier
Rights Holder
Eva Marisaldi
MoRE Museum
Collection
Citation
Marisaldi, Eva, "18.20 (Progetto per il Piazzale Caio Mario),"
MoRE
, accessed January 21, 2021,
http://moremuseum.org/omeka/items/show/24
.
Social Bookmarking
Item Relations
This item has no relations.
Geolocation