Meteorite al contrario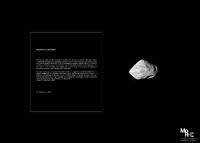 Title
Meteorite al contrario
Description
David Bertocchi's project,
Meteorite al contrario
(2010) is the launch into space of a normal stone of medium size, which would constitute a kind of meteorite, according to a trajectory opposite the one that usually leads an asteroid to accidentally stumble on our planet. With this project, in addition a to normal challenging of the scientific premises that describes the trajectory and the ablation with the atmosphere of an extraterrestrial impact directly on the ground, the artist is trying to subvert the classic paradigm of contemporary technology: the maximum technology in minimum space, which in this case would be the minimum technology in maximum "space". The project is closely related to the poetic of the artist, since long time resident in Paris, and it is referable to a system of signs and meanings, an interest in the universe that started with a work in progres born in 1999 entitled precisely Space, which in more than ten years has involved Bertocchi in the creation of a parallel universe: around 3000 images of galaxies and planets invented by the artist. The project has not been realized yet because of its high costs.
Read more
.
Creator
Bertocchi, Davide
Contributor
Rossi, Valentina
Identifier
Rights Holder
Davide Bertocchi
MoRE Museum
Collection
Citation
Bertocchi, Davide, "Meteorite al contrario,"
MoRE
, accessed April 22, 2021,
http://moremuseum.org/omeka/items/show/17
.
Social Bookmarking
Item Relations
This item has no relations.