Il pop up che non si apre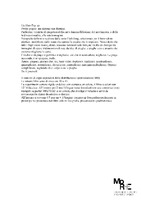 Title
Il pop up che non si apre
Description
Il pop up che non si apre (The pop up that will not open)
is an artist's book designed by Luca Trevisani in 2011. The artist starts from his series of works, printed on copper and cardboard, named
Fly fishing
(2010), to elaborate the structure of a pop up book. In this editorial project many of the attitudes and characteristics of the artist's work are visible, such as the sculptural gesture, the condition of equilibrium, manual skills and the chosen material: the paper. The project was initially designed as a self-production by the artist himself, and then proposed to the publishe cura.books, but it has never been realized for the high costs and because of the many difficulties in finding the necessary financial coverage.
Read more.
Contributor
Rossi, Valentina
Identifier
Rights Holder
Luca Trevisani
MoRE Museum
Collection
Citation
Trevisani, Luca, "Il pop up che non si apre,"
MoRE
, accessed September 28, 2020,
http://moremuseum.org/omeka/items/show/47
.
Social Bookmarking
Item Relations
This item has no relations.