St. Pancras Truck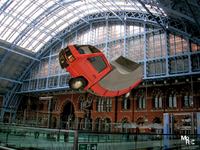 Description
This sculpture was thought for St. Pancras station, located in northern London; the building dates back to 1861 and its victorian character contributes to frame this work as unreal, even if the artist through his works wants to communicate much more than that and goes beyond this "fantastic" dimension to reach a much deeper reflection on the de-functioning of the object, gazing at reality from a different perspective. The twisting of the vehicle is always part of this techniques of distortion of perception that Wurm adopts almost to create an epiphany of the object itself, a new life and a new meaning. The project was commissioned by St. Pancras train station, but has never been realized. The artist declared that "the truck was planned with a maximum length of 10m, the Commission found that too small, it should have been 20m!".
Read more.
Contributor
Rossi, Valentina
Identifier
Rights Holder
Erwin Wurm
MoRE Museum
Collection
Citation
Wurm, Erwin, "St. Pancras Truck,"
MoRE
, accessed September 28, 2020,
http://moremuseum.org/omeka/items/show/15
.
Social Bookmarking
Item Relations
This item has no relations.
Geolocation