Silvia Cini
Description
Silvia Cini (Pisa, 1972) is an artist and independent curator. She graduated from the Academy of Fine Arts in Rome and then continued her studies as an Operator of Cultural Heritage at the Pontifical Gregorian University; thanks to a thesis on the cataloging of contemporary art works, she started working at the ICCD Central Institute for Documentation and the Catalogue of the Ministry of Culture, contributing to the drafting of the law on cataloging OAC Opera contemporary Art as a consultant of the then director Maria Luisa Polichetti.
One of the founders of the Gruppo Immagini, she collaborated with Keith Haring to the event that lead to the mural of Pisa. At the same time she began studying theater with Stefano Vercelli and Luisa Pasello at the Piccolo Teatro di Pontedera, under the direction of Roberto Bacci and supervision of Jersy Grotosky.
Her first exhibition was in Milan in 1994, when she created the group AAVV with Salvatore Falci, then in Rome where she collaborated with Cesare Pietroiusti to DisorsordinAzioni il Gioco del Senso and Non senso (XII Quadrennial of Rome), and with the Gruppo Oreste with which she took part to the 48 Venice Biennale.
In 1997 she curated her first series of exhibitions at the Ferro di Cavallo, in collaboration with the Academy of Fine Arts in Rome, signing the beginning of the art of relationship and public art in Italy. She continued to work as a curator, as collaborator of Carolyn Christov Bakargiev and Hans Hulrich Obrist to the French Academy in Rome and in other curatorial activities (Milan Triennale, Invideo, Icityperiferiche, Palazzo Re Enzo, Bologna, Genoa Loggia of the Merchants, Cartabianca, Museum of Contemporary Art Villa Croce, Genoa) side by side with the exhibiting activity. Since the end of the nineties she works with the Neon Gallery, alternating solo and group exhibitions (Continua, Zero, GoldanKauf) in Italy and abroad.
Her works are inspired by the dialogue, often intimate, that they create with the audience. Her interest focuses often on the landscape as a metaphor of society, integrating environmental audio installations and botanical research. She collaborated over the years with the Faculty of Landscape Architecture in Genoa holding workshops and seminars. In 2000 she received the Prize Atelier from Fabio Mauri, at the Galleria Comunale d'Arte Moderna in Rome. The city of Genoa, on the occasion of Genoa 2004 European Capital of Culture, assigned her the Duchess Galliera Award for best artist working on the territory of Liguria.
Collection Items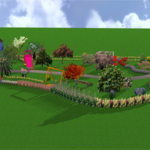 The project was commissioned by Roberto Daolio as part of a series of art works to be placed on the top floor of the Department of Pediatric Oncology of the Sant'Orsola Hospital in Bologna, in collaboration with the Association AGEOP. Cini was…
View item
Collection Tree
Social Bookmarking