Progetto senza titolo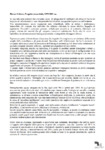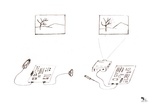 Title
Progetto senza titolo
Description
This project derives from the artists' research around the Turing Test. Two computers set up with basic complementary knowledge responded to the visual inputs that the visitor showed to one of them: the first computer processed the image and then verbally communicated it to the second computer, in fact the first computer spoke to the second describing the image. The second computer, on the basis of information stored in its memory, activated a process of representation of the description, which it then actually represented through a projector next to the image that had been shown to the first computer. The two images were finally exposed side by side, showing the translation process image> word> image.
The project needed a great number of technical and scientific partnerships to make the data transmission possible. However, the concept behind the project came to life with two performances the artists realized in 2011 and 2014.
Read more.
Creator
Bianco-Valente (Bianco, Giovanna & Valente, Pino)
Contributor
Romano, Gianni
Format
application/pdf
image/jpeg
Identifier
Rights Holder
Bianco-Valente
MoRE Museum
Collection
Citation
Bianco-Valente (Bianco, Giovanna & Valente, Pino), "Progetto senza titolo,"
MoRE
, accessed April 22, 2021,
http://moremuseum.org/omeka/items/show/86
.
Social Bookmarking
Item Relations
This item has no relations.