Non Piango Mai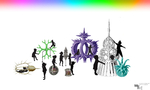 Description
Drawing realized to design a children's playground. The elements of the game park are inspired by drawings of biologist, zoologist, philosopher and also German artist Ernst Haeckel, who designed more than 100 polychromatic illustrations of animals and sea creatures. Some elements of the drawings, in three-dimensional transposition, are designed to be modified with the aim of making movable some parts, recreate circular movements, extension and elastic.
The elements are designed with an internal steel frame to resist several requests, while the exterior is covered by colored rubber, resin, wood, concrete, to recreate different texture to the touch. The project is designed to be installed in a public place, park, square, museum or school.
Read more.
Contributor
Rossi, Valentina
Rights Holder
David Casini
MoRE Museum
Physical Dimensions
file jpeg, 25x15 cm, 192,024 dpi


Collection
Citation
Casini, David, "Non Piango Mai,"
MoRE
, accessed April 22, 2021,
http://moremuseum.org/omeka/items/show/74
.
Social Bookmarking
Item Relations
This item has no relations.
Geolocation