Senza Titolo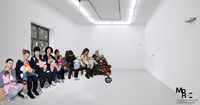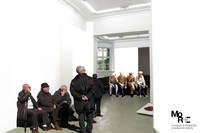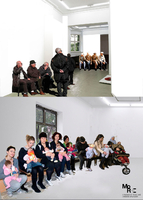 Description
This unrealized work donated to MoRE museum consists in a performance staged simultaneously in two different galleries in Berlin, in one venue there are many young mothers with babies, while in the other there are elderly people. The overlaying of the two actions creates a kind of disorientation in the viewer who is facing the two venues to enjoy the same work of art, the visitor entrance is potentially submerged by these presences that are on an ambiguous track between irony, sarcasm and an uncanny feeling of "homologation" of the protagonists. This work can be considered a modern allegorical composition of the three ages of man, on the one hand young women with their children – maturity and youth – while in the other gallery there is the last stages of life. Even if the work has an "aulic" meaning and evokes an iconography of the past, it developed through a ludic dimension which characterizes a great part of the work of the artist. Therefore there's not only a Marcel Duchamp vein in Scotto di Luzio's poetic, as we can see in
the other project donated to MoRE
, but also a performative research that approaches both the avant-garde of the Seventies that the more recent trends of the Nineties, and that is penetrated by a Neapolitan sense humor with ancient roots (remembering Totò and Eduardo de Filippo) that conceals melancholy and irony.
The project was created in collaboration wirh the Krome Gallery (Berlin), but a second gallery has never been found.
Read more.

Creator
Scotto di Luzio, Lorenzo
Contributor
Rossi, Valentina
Relation
Rights Holder
Lorenzo Scotto di Luzio
MoRE Museum
Collection
Citation
Scotto di Luzio, Lorenzo, "Senza Titolo,"
MoRE
, accessed September 28, 2020,
http://moremuseum.org/omeka/items/show/33
.
Social Bookmarking
Item Relations
This item has no relations.
Geolocation