Promise. Progetto per la recinzione del cantiere del Museion di Bolzano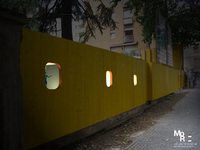 Title
Promise. Progetto per la recinzione del cantiere del Museion di Bolzano
Description
The project was proposed for the enclosure of the construction site of the museum contemporary art in Bolzano in 2008, on the occasion of the inauguration of its new location realised by the Berlin studio KSV Krüger Schuberth Vandreike in the city centre. The artist was invited to take part to an initiative called Arte in cantiere together with some other artists; the chosen project in the end was the work A Change Of Mind by the Scandinavian artist duo Elmgreen & Dragset. The Promise project is an allusion, explicit in its title, to a promise, an expectation introduced by a series of small resin sculptures (20 cm high) hold in 12 plexiglass display cases placed on the perimeter of the museum's fence, every 2,20 meters. Inside the cases (round-shaped, 25 x 30 x 20 cm) an hostess show the twelve movements of the "pre flight briefing", performed by the flight assistants before each take off. Two cases present an the back tent open with a view on the museum construction site. The idea was to realise the small sculptures with a software for 3D-modelling through a process of rapid prototyping (a technique already used by the artist in some other projects). The cases were supposed to be illuminated from below with neon lights, as in a light box, to make the artist's work visible at night.
Read more.
Contributor
Modena, Elisabetta
Relation
Rights Holder
Eva Marisaldi
MoRE Museum
Collection
Citation
Marisaldi, Eva, "Promise. Progetto per la recinzione del cantiere del Museion di Bolzano,"
MoRE
, accessed September 28, 2020,
http://moremuseum.org/omeka/items/show/27
.
Social Bookmarking
Item Relations
This item has no relations.
Geolocation