Braco Dimitrijević
Description
Braco Dimitrijević was born in Sarajevo in 1948. After attending the Academy of Fine Arts in Zagreb, between 1968 and 1971, he completed his postgraduate studies in 1973 at the Saint Martin's School of Art in London.
In 1963 he made his public debut with Flag of the world, in which he replaced a national flag with a cloth to clean paint brushes; by the end of the 1960s, he proposed a series of works in which he triggered accidental processes and asked strangers to sign them as works of art (Accidental Drawing, 1968; Painting by Krešimir Klinka 1969). This approach, which is designed to problematise the notion of authorship, also constituted the base for the series dedicated to "Casual Passers-by", presented for the first time in Zagreb in 1971 and at the VI Biennale of Paris. The series featured large-scale photographs of strangers presented as if they were important political figures or media celebrities.
During the 1970s he participated in the Documenta in Kassel (1972, 1976) and the Venice Biennale (1976), while the Muzej suvremene umjetnosti of Zagreb held his first retrospective (1973). During this time he also started to travel to Italy, first invited to Naples by Lucio Amelio for a personal exhibition (1971) and then to Turin by Gian Enzo Sperone, with whom he continued to work.
In 1976 he published the Tractatus Post Historicus, which discusses the linear and evolutionary nature of the historical-artistic process, and presented Tryptychos Post Historicus at the Nationalgalerie in Berlin, proposing a combination of exhibits from the museum collection, anonymous everyday objects and organic elements such as fruits and vegetables. The project was revived and further developed subsequently in numerous museums, including the Centre Georges Pompidou in Paris, the Tate Gallery in London, the Guggenheim Museum in New York, the State Russian Museum and the Louvre in Paris.
In 1981, on the occasion of his personal exhibition at the Waddington Gallery in London, he proposed exhibiting two live peacocks alongside the collection dedicated to the masters of modern art. He continued working with animals throughout the 80s with the installations proposed at the Sarajevo Zoo (1983) and the personal exhibition at the Paris Zoo (1998).
Creator
Dimitrijević, Braco
Collection Items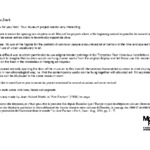 In 1996 Braco Dimitrijević, interviewed by Jean-Hubert Martin for "Flash Art", said: If you look at the earth from the moon there is virtually no distance between the Louvre and the zoo. There are cages at the zoo just as there are in the Louvre. My…
View item
Collection Tree
Social Bookmarking